Cattleya trianae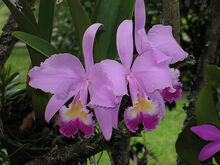 Binomial name
Cattleya trianae
Lindley & Rchb.f 1860

Cattleya trianae is a plant in the genus Cattleya.
Description
[
]
Plant blooms in the winter with three to fourteen 20 cm wide flowers. Flowers are fragrant.
It is the National flower of Colombia
Distribution
[
]
Plant is found growing in Colombia
Culture
[
]
Plants should be grown in medium fir bark with partial to full sun. The plant is a intermediate to warm growing orchid species. Water approximately once a week and reduce watering during the winter. Plant can also be mounted.
Varities
[
]
| Image | Name | Description |
| --- | --- | --- |
| | Cattleya trianae var albescens | white petals and sepals, lip is white |
| | Cattleya trianae var concolor | white petals and sepals, lip is light pink |
| | Cattleya trianae var. pincelata | petals are pink with a patch of magenta and sepals light pink, lip is light pink with a yellow and magenta spot |
| | Cattleya trianae var suave | light pink petals and sepals, lip is light pink with a yellow spot |
| | Cattleya trianae variant | light pink petals and sepals, lip is light pink with a yellow and magenta spot |
| | Cattleya trianae variant | white petals and sepals, lip is magenta |
Naming
[
]
Common Name:Dr. Triana's Cattleya
Synonyms
[
]
Cattleya bogotensis Linden ex C. Morr. 1897
Cattleya kimballiana L. Linden & Rodigas 1887
Cattleya labiata var. trianaei [Lindley & Rchbf] Duch. 1860
Cattleya lindigii Karst
Epidendrum labiatum var trianaei Rchb.f 1861