Dendrobium crumenatum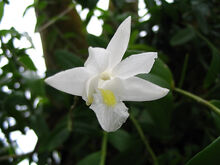 Binomial name
Dendrobium crumenatum
Swartz 1799

Dendrobium crumenatum is a species of genus Dendrobium
It produces white, 5cm wide, fragrant flowers with a yellow tinted throat. Flowers are short lived and will "close" into a banana-like shape similar to buds.
The bloom cycle is triggered by sudden drops in temperature (at least 5.5 °C or 10 °F), usually as a result of rain, although the same effect can be artificially created. The plant produces a fragrant smell, but only for two days. Flowers taste somewhat sweet.
Plants are found in semi deciduous lowland forest in Chinese Himalayas, Taiwan, India, Sri Lankha, Andaman Islands, Myanamar, Thailand, Malaysia, Cambodia, Laos, Vietnam, Lesser Sunda Islands, Moluccas,Sulawesi, Sumatra, New Guinea, Christmas Islands and the Philippines from elevations of 0 to 500 meters.
Plant requires intermediate to warm temperatures and medium amounts of light. Keep plant moist but not wet. Water when potting media is almost dry but still slightly moist. Unlike other dendrobiums, Den. crumenatum does not appear to have a definite resting period. Grow in a well drain mix of sphagnum moss or medium fir bark. Plant can also be mounted on slabs and directly on trees.
Common Names:The Purse-Shaped Dendrobium, The Pigeon Orchid, The Bag-Shaped Dendrobium
Angraecum crumenatum Rhump.

Aporum crumenatum (Sw.) Brieger 1981
Aporum ephemerum (J.J.Sm.) Rauschert 1983
Aporum kwashotense (Hayata) Rauschert 1983
Aporum papilioniferum (J.J.Sm.) Rauschert 1983
Aporum scalpelliforme (Teijsm. & Binn.) Rauschert 1983
Callista crumenatum [Sw.] O.Ktze. 1891
Ceraia ephemera (J.J.Sm.) M.A.Clem. 2003
Ceraia papilionifera (J.J.Sm.) M.A.Clem. 2003
Ceraia parviflora (Ames & C.Schweinf.) M.A.Clem. 2003
Ceraia simplicissima Lour. 1791
Dendrobium caninum Merr. 1921
Dendrobium ceraia Lindley 1830
Dendrobium coninum Sw. ?
Dendrobium crumenatum var. parviflora Ames & C.Schweinf. in ?
Dendrobium cumulatum Krzl not Lindley ?
Dendrobium ephemerum (J.J.Sm.) J.J.Sm. in E.D.Merrill 1917
Dendrobium kwashotense Hayata 1914
Dendrobium papilioniferum J.J.Sm. 1905
Dendrobium papilioniferum var. ephemerum J.J.Sm 1905
Dendrobium schmidtianum Krzl. 1902
Dendrobium simplicissimum [Loureiro]Kraenzlin 1910
Epidendrum caninum Burm. f. 1768
Epidendrum ceraia Raeusch. 1797
Onychium crumenatum [Sw] Blume 1825
Community content is available under
CC-BY-SA
unless otherwise noted.