Dendrobium farmeri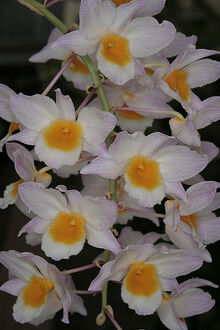 Binomial name
Dendrobium farmeri
Paxton 1849

Dendrobium farmeri is a species of genus Dendrobium
Description
[
]
Plant blooms in the spring with several 5 cm wide flowers.
Distribution
[
]
Plant is found growing on tall trees in the lowland and montane forest of Himalayas, Assam, Nepal, Myanamar, Thailand, Laos and Malaysia at elevations of 150 to 1000 meters on
Culture
[
]
Plant grows in warm to hot temperatures with medium amounts of light. Keep plant moist and fertilize during growth season. During winter reduce watering until new shoots appear. Grow in a well drain mix of sphagnum moss or medium fir bark.
Varities
[
]
| Image | Name | Description |
| --- | --- | --- |
| | PDendrobium farmeri var. alba | Flower has white petals and sepals, lip is yellow |
Naming
[
]
Common Names: Farmer's Dendrobium
Synonym
[
]
Callista densiflora (Lindl. ex Wall.) Kuntze var farmeri 1891
Callista farmeri (Paxton) Kuntze 1891
Dendrobium densiflorum Lindley var farmerii