Dendrobium thyrsiflorum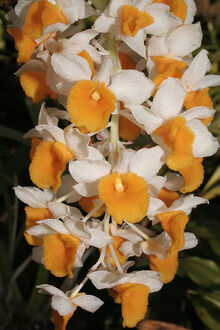 Binomial name
Dendrobium thyrsiflorum
Rchb.f 1875

Dendrobium thyrsiflorum is a species of genus Dendrobium
Description
[
]
Plant blooms in the spring with thirty to fifty 5 cm wide fragrant flowers.
Distribution
[
]
Plant is found in the mossy coniferous forest of the Himalayas, Hainan China, Assam India, Myanmar, Thailand, Laos and Vietnam at elevations of 1200 to 2000 meters
Culture
[
]
Plant grows in cool to warm temperatures with medium amounts of light. Keep plant moist and fertilize during growth season. During winter reduce watering until new shoots appear. Grow in a well drain mix of sphagnum moss or medium fir bark.
Naming
[
]
Common Names: The Pine Cone-Like Raceme Dendrobium
Synonym
[
]
Callista thyrsiflora (Rchb.f. ex André) M.A.Clem. 2003
Dendrobium densiflorum var. alboluteum Hook.f. 1869
Dendrobium galliceanum Linden 1890