Dracula lotax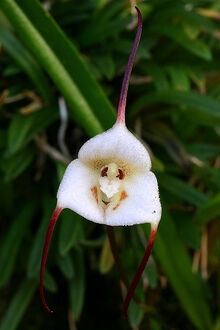 Dracula lotax is an epiphytic orchid in the genus Dracula.
Description
Edit
Plant blooms in the spring with a single 8 cm wide flower.
This species was discovered by Milian Fiske in the early 1970s in Cordillera del Condor. Fiske described it in the AOS bulletin as Masdevallia bomboiza with detailed illustrations. It was not validated or published properly until more species were found four years later.
Distribution
Edit
Plants are found in the cool forest of Cordillera del Condor, Colombia and Ecuador from elevations of 800 to 1600 meters
Keep plant in partial shade. Plant can be grown in cool conditions. Pot the plant in fine bark with perlite or sphagnum moss. Water regularly and keep potting media moist.
Common Names: The Clown Dracula
Masdevallia bomboiza M. Fiske 1974
*Masdevallia lotax Luer 1978
References
Edit
Hermans, Johan & Clare. Orchid Digest special publication: An Annotation Checklist on the Genus Dracula. Orchid Digest Corp., 1997.