Dracula vampira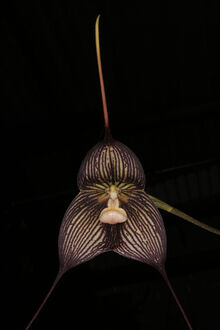 Binomial name
Dracula vampira
[Luer]Luer 1978

Dracula vampira is an epiphytic orchid in the genus Dracula.
Description
[
]
Plant blooms with up to six flowers which open in succession at any time of the year. Flowers are 8 cm wide.
This species was originally discovered by Lehmann on the slopes of Mount Pichincha. It was considered a dark variant of Dracula chimaera by Kew until 1978, when it was recognized.
Distribution
[
]
Plants are found in the cloud forest of western Ecuador and Colombia at elevations of 1800 to 2200 meters
Culture
[
]
Keep plant in partial shade. Plant can be grown in warm to cool conditions. Pot the plant in fine bark with perlite or sphagnum moss. Water regularly and keep potting media moist.
Naming
[
]
Common Names: The Vampire-Like Dracula
Synonyms
[
]
Dracula ubanquia Luer & Andreeta 1980
Masdevallia vampira Luer 1978
References
[
]
Hermans, Johan & Clare. Orchid Digest special publication: An Annotation Checklist on the Genus Dracula. Orchid Digest Corp., 1997.