Laelia albida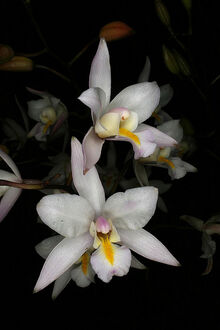 Laelia albida is a plant in the genus Laelia.
Description
Edit
Plant bloom from fall to winter with up to nine fragrant 7.5 cm wide flowers.
Distribution
Edit
Plant is found growing in the oak and pine forest of western Mexico at elevations of 1000 to 3000 meters
Plants should be grown in medium fir bark with partial to full sun. Plant is a cool to warm growing orchid species. Water approximately once a week. Plant can also be mounted. Reduce watering during the winter.
Varieties
Edit
| Image | Name | Description |
| --- | --- | --- |
| | Laelia albida var. rosea | Sepals and petals are white, lip is pink |
Common Name: Albescent Laelia
Amalia albida (Bateman ex Lindl.) Heynh. 1846
Bletia albida Rchb.f 1862
Cattleya albida Beer 1854
Laelia candida Lodd. ex W.Baxter 1850 l Laelia discolor A. Rich. & Gal. 1845