Lycaste leucantha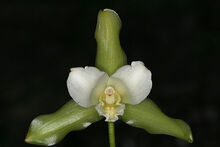 Binomial name
Lycaste leucantha
[Klotsch]Lindl. 1851

Lycaste leucantha is a plant belonging to the orchid genus Lycaste.
Distribution
[
]
Plants are found growing in the cloud forest of Guatemala, Costa Rica and Panama at elevations of 600 to 2000 meters
Description
[
]
Plant blooms from winter to spring with a single 10 cm wide flower. Flowers are fragrant.
Culture
[
]
Grow in diffused bright light and keep in cool to warm temperatures. Keep humidity from 40 to 70%. Water regularly during growing season. The potting media should be a little moist in between waterings. To prevent rot, avoid water from touching leaves. Reduce watering during the winter. Pot plants in 75% fine bark and 25% perlite or in full sphagnum moss.
Naming
[
]
Common Name:The White-Flower Lycaste
Synonyms
[
]
Lycaste candida Rchb.f 1863
Lycaste leuco-flavescens Hort. ?
*Maxillaria leucantha Klotzsch, Otto & A. Dietr. 1850