Masdevallia infracta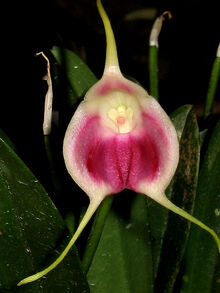 Masdevallia infracta is a species in the Masdevallia genus.
Description
Edit
Plant blooms in the summer with one to five successive 7.5 cm flowers.
Distribution
Edit
Plant is found growing in the montane forest of Brazil and Bolivia at elevations of 1100 to 2000 meters
Keep plant in partial shade. Plant can be grown in cool to intermediate conditions. Pot the plant in fine bark with perlite or sphagnum moss. Water regularly and keep potting media moist.
Varieties
Edit
| Image | Name | Description |
| --- | --- | --- |
| | Masdevallia infracta var. alba | Sepals and petals are white, lip is white. |
Common Name: The Crooked Masdevallia
Alaticaulia infracta (Lindl.) Luer 2006
Masdevallia albida Pinel 1868
Masdevallia aristata Barb. Rod. 1877
Masdevallia aurantiaca Lindl. 1836
Masdevallia forgetiana Kraenzl. 1895
Masdevallia infracta var aristata [Barb. Rodr.] Cogn. 1896
Masdevallia infracta var purpurea Rchb.f 1833
Masdevallia longicaudata LeMaire 1868
Masdevallia tridentata Lindl. 1836
Masdevallia triquetra Schweidw. 1839
Community content is available under
CC-BY-SA
unless otherwise noted.