Oncidium ansiferum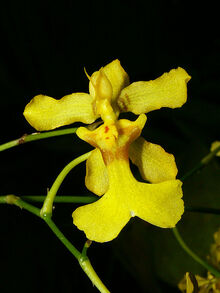 Binomial name
Oncidium ansiferum
Rchb.f. 1852

Oncidium ansiferum is an epiphytic orchid from the genus Oncidium.
Description
[
]
Plants blooms from winter to spring with several 2.5 cm wide flowers..
Distribution
[
]
Plants are found in the montane forest of Costa Rica and Panama at elevations of 50 to 2500 meters
Culture
[
]
Grow in cool to warm conditions with moderate to bright light. Water the plant right before the potting mix starts to dry. Plants should be potted in a well drain medium such as medium fir bark.
Naming
[
]
Common name: The Handle-Bearing Oncidium
Synonyms
[
]
Oncidium delumbe Lindl. 1855
Oncidium hieroglyphicum Rchb. f. & Warsz. 1854
Oncidium lankesteri Ames 1923
Oncidium naranjense Schltr. 1923
Oncidium tenue Lindl. 1852
Oncidium tenue var. grandiflorum Lindl. 1852