Oncidium graminifolium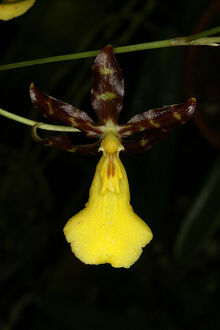 Binomial name
Oncidium graminifolium
(Lindl.) Lindl. 1841

Oncidium graminifolium is an epiphytic orchid from the genus Oncidium.
Description
[
]
Plants blooms from summer to spring with a two to five 2 cm wide flowers.
Distribution
[
]
Plants are found in the pine forest of Mexico, Guatemala and Honduras at elevations of 1100 to 2500 meters
Culture
[
]
Grow in cool to intermediate conditions with moderate to bright light. Water the plant right before the potting mix starts to dry. Plants should be potted in a well drain medium such as medium fir bark.
Naming
[
]
Common name:The Grass Leafed Oncidium
Synonyms
[
]
*Cyrtochilum graminifolium Lindley 1840
Cyrtochilum filipes Lindley 1841
Oncidium filipes [Lindley]Lindley 1855
Oncidium Wraye Hook. 1841