Phalaenopsis tetraspis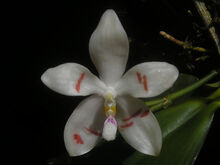 Binomial name
Phalaenopsis tetraspis
Rchb.f. 1868

Phalaenopsis tetraspis is an Phalaenopsis species found in South East Asia.
Description
[
]
Plant flowers in spring with four to eight flowers. Flowers are 4 to 5 cm and fragrant.
Distribution
[
]
Plants grow in Sumatra, the Andaman Islands and Nicobar islands at elevations around 0 meters.
Culture
[
]
Grow intermediate to warm. Pot in medium fir bark and keep in partial shade. Water about once a week. Keep plant fairly moist but not wet.
Varieties
[
]
| Image | Name | Description |
| --- | --- | --- |
| | Phalaenopsis tetraspis variant | Sepals and petals are white. without red bars |
| | Phalaenopsis tetraspis variant | Sepals are red and petals are white. Lip is red |
Naming
[
]
Common Names: The Four Sheild Phalaenopsis
Synonyms
[
]
Phalaenopsis barrti King ex Hook. f. 1895
Phalaenopsis imperati ?
Phalaenopsis speciosa var tetraspsis [Rchb.f] Sweet 1968
Phalaenopsis sumatrana var alba Wilson 1915
Polychilos speciosa (Rchb. f.) Shim 1982