Sophronitis pygmaea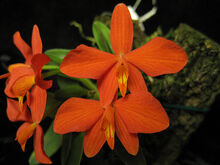 Binomial name
Sophronitis pygmaea
( Pabst ) Withner 1993

Sophronitis pygmaea is a plant in the genus Sophronitis.
Description
Plant bloom in the spring with a single 2 cm wide flower.
Distribution
Plant is found growing in the Espiritu Santo State of Brazil at elevations of 915 to 1067 meters
Culture
Plants should be grown in medium fir bark with partial to full sun. Plant is a cool to intermediate growing orchid species. Water approximately once a week. Plant can also be mounted.
Naming
Common Name: The Pygmy Sophronitis
Synonyms
Hadrolaelia pygmaea ( Pabst ) Chiron & V.P.Castro 2002
Sophronitis coccinea subsp. pygmaea Pabst 1976
Sophronitis mantiqueirae var. pygmaea (Pabst) Fowlie 1987