Vanilla pilifera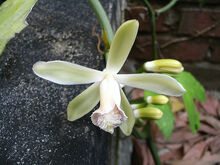 Binomial name
Vanilla pilifera
Holttum 1951

Vanilla pilifera is an Vanilla species endemic to Asia.
Description
[
]
Flowers bloom with 6 flowered inflorescence. The flowers are 6.8 cm wide.
Monopodial terrestrial climbing orchid, stem and leaves succulent, rooting from node, internode 7-10 cm. Leaves thick, oblong, 10-14 cm; apex acute; base obtuse; petioles 1-1.5 cm. Inflorescences arise from node, ca 5 cm. long, with 6-12 flowers; bracts 0.5-1 cm. long; pedicels 5-6 cm long. Sepal 3, free, oblong-lanceolate, greenish, shiny, 3-3.4 cm long. Lateral petals similar to sepals; labellum whitish pink with dark purple veins inside, ca 3 cm long with appendage hairs at apex down to the mouth close to 8-10 scales of brush, hairs ca 0.5 cm long; lower inside in front column dark red; column 1-1.8 cm long, most part connate to labellum; operculum green.
Distribution
[
]
Plants are found in dry evergreen forest of Assam, Thailand, Malaysia and Borneo climbing on trees.
Culture
[
]
Keep plant in intermediate to warm temperatures in shade. Plant is grown in shade and require a lots of space for climbing. Plant can be mounted or grown in bark. Plant prefers dryouts between waterings.
Naming
[
]
Common Names:The Ball of String Carrying Vanilla